10 Jahre Bavarian Battle Winter:
Am 10.01.15 steigt wieder unser winterliches Black-Metal Indoorfestival im Lokschuppen Rosenheim - und das für unschlagbare 12€!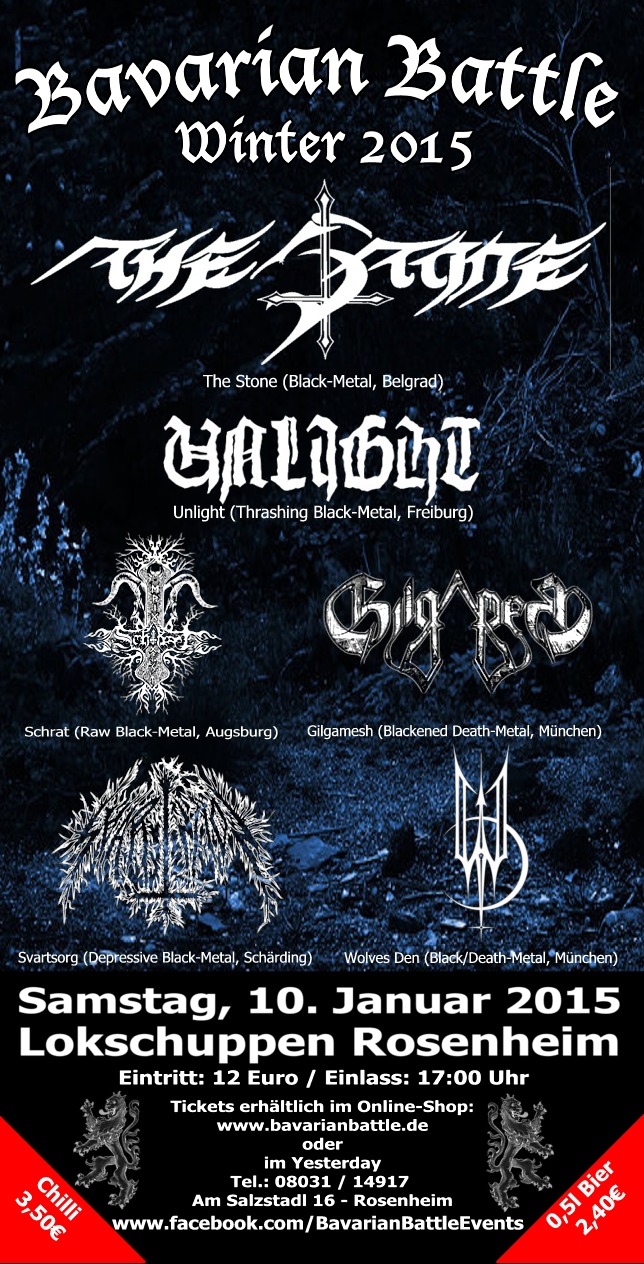 Mit dabei:

The Stone (Black-Metal aus Belgrad/Serbien)
Unlight (Black/Thrash-Metal aus Freiburg/Baden)
Svartsorg (Depressive Black-Metal aus Schärding)
Schrat (Raw Black-Metal aus Augsburg)
Wolves Den (Black/Death-Metal aus München)
Gilgamesh (Blackened-Death-Metal aus München)

https://www.facebook.com/events/257673037771164/

Tickets gibt es im VVK für 12€ unter shop@bbevents-rosenheim.de

Schreibt uns eine email mit der Anzahl der Tickets und eurer Adresse. Dann gibt's von uns die Kontonummer zum Überweisen. Wer später noch ein T-Shirt o.ä. vorbestellt (demnächst im Shop), aber schon ein Ticket hat, erhält dann entsprechend den VVK-Rabatt für den Merchandise.


17:30 - 18:05 Wolves Den (35min): Blackened Death Metal, Munich
18:25 - 19:00 Svartsorg (35min): Depressive Black Metal, Schaerding, Austria
19:20 - 20:00 Gilgamesh (40min): Blackened Death Metal, Munich
20:20 - 21:05 Schrat (45min): Raw Black Metal, Augsburg
21:25 - 22:15 Unlight (50min): Thrash/Black Metal, Freiburg
22:45 - 23:45 The Stone (60min): Black Metal, Belgrad, Serbia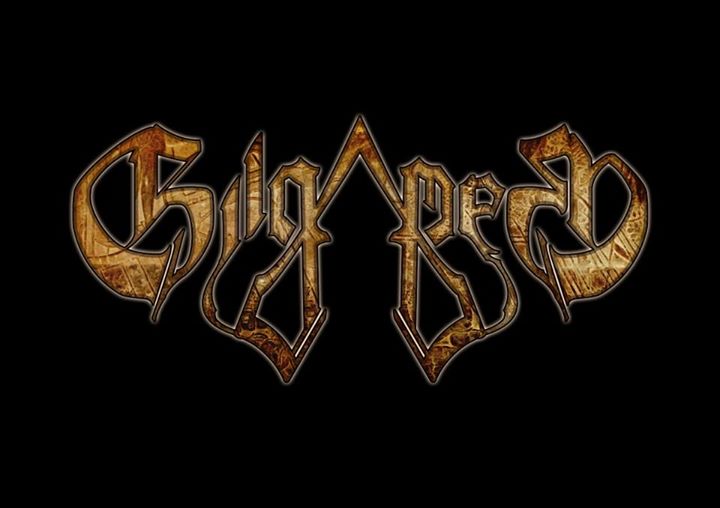 Die Band GILGAMESH ging nach einigen Besetzungswechseln aus der Band Maelstorm hevor. 2011 manifestierte sich das bis heute bestehende Line-Up.

Musikalisch beschreitet man nun die Wege des stark Black-Metal beinflussten Death-Metals. Wer Bands wie Hate, Behemoth oder Melechesh schätzt, der wird auch an der Münchner Nachwuchshoffnung Gilgamesh nicht vorbei kommen. Düstere, athmosphärische, in größtenteils hohen Geschwindigkeiten gespielte Riffs untermalt von genretypisch stark blastbeat- und doublebass dominierten Drums.

Im Frühjahr 2014 konnte sich Gilgamesh beim Revolution Contest als Sieger durchsetzen. Neben ihren musikalischen Qualitäten überzeugte die junge Band mit ihrer genialen Live-Performance, die sich schon jetzt mit den Szenegrößen messen lassen kann.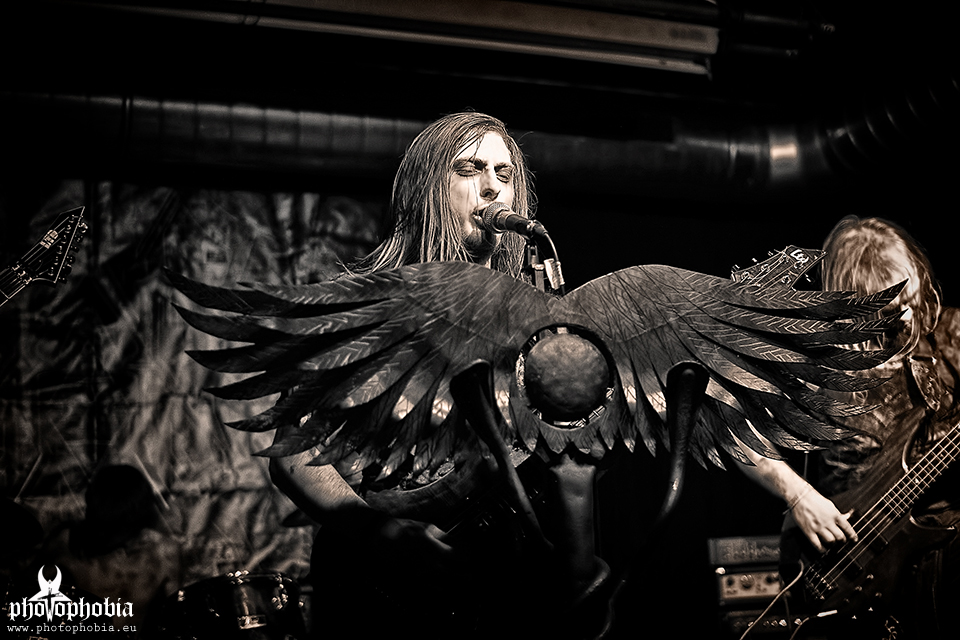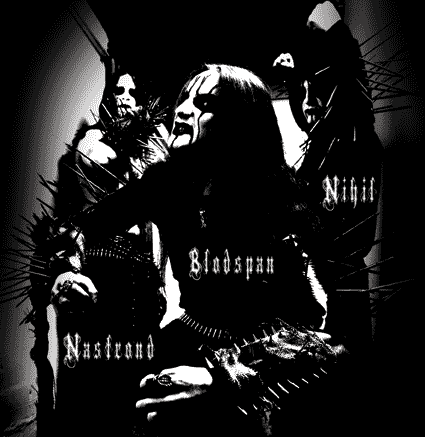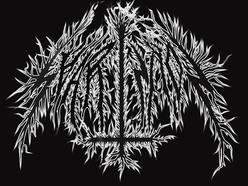 SVARTSORG was formed in autumn 2007 by Grubotnik and Lord Judas Iscariot, after a spontaneous recording session.

The music is rooted in the depressive black-metal genre,
although the pace and mood of the songs vary very often and
therefore a unique style is evident. In the first years the band was only a studioproject. Lyrics written by Lord Judas Iscariot and music by Grubotnik. After countless recordings, and many finished songs, the two decided to shock the masses with live performances! So they searched musicians for this challenge.
After countless failed attempts to find a drummer like a machinegun. Amarok was engaged in summer 2009.
Bassist Andras left the Band in March 2010. After our gigs at "Metalcamp" and "Darker than Dark" with Irleskan (Svarta) on the vocals, and because of time problems of "Lord Judas Iscariot", Svartsorg decided that our ways aren´t the same.
End of 2011 "Abyssic Noise Terror" joined our horde on the vocals, and his shrill cries from the stage will bring people trembling of fear.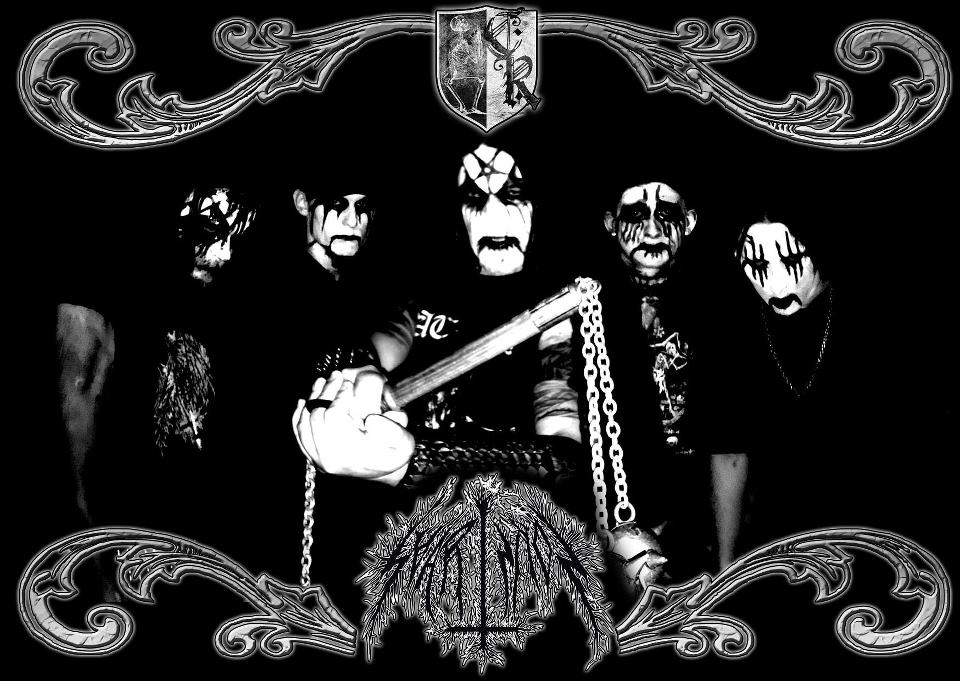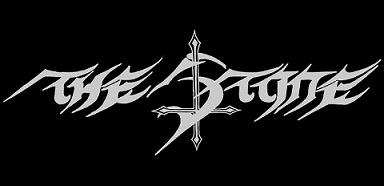 Formed in Belgrade, Serbia under the name STONE TO FLESH in 1996, THE STONE has, since its inception, grown in to become an internationally recognized Black Metal Band with a plethora of releases, tours, festivals and live appearances under its belt.

The band's first release, the "Unveiled Evil" MCD appeared in a tape version in 1998 on Demonion Productions and contained both the "Serbian Woods" and "Killed by the Sun" demos. This was followed by THE STONE's first full length album "Some Wounds Bleed Forever", which was released on CCP records in 2000. Several more releases followed, until the band came to the attention of the cult German label Folter Records in 2006, who quickly snapped up THE STONE, and released their fourth full-length album "Magla". This proved to be the move that brought THE STONE to the notice of fans world-wide, and launched the next stage of their career.

The next few years saw the release and re-release of more material in different formats, including the "Live Curse from the East" DVD, but essentially THE STONE spent this time building on the success of "Magla" and becoming known to more and more concert goers thanks to their dynamic live performances. 2009 saw the release of the band's fifth full length album "Umro" on Folter Records, and the band's reputation continued to grow.

The release of THE STONE's sixth full length album "Golet" in late 2011, once again on Folter Records, showed the band at its most mature and skilled to date, with praise being heaped on the album from journalists and fans alike, and set the band on the way to a running start to 2012. Having signed with the UK-based band manager Patricia Thomas, who works with some of the well established, as well as some of the best upcoming Black and Extreme Metal bands in Europe and with Folter Records firmly in their corner, with tours and festivals already lined up for the first half of the year and the release of both "Golet" and "Tragom Hromoga Vuka" in LP format scheduled, THE STONE is more than ready to step up the pace and take the band further than ever before.

Be prepared for the forthcoming Album in Autumn 2014!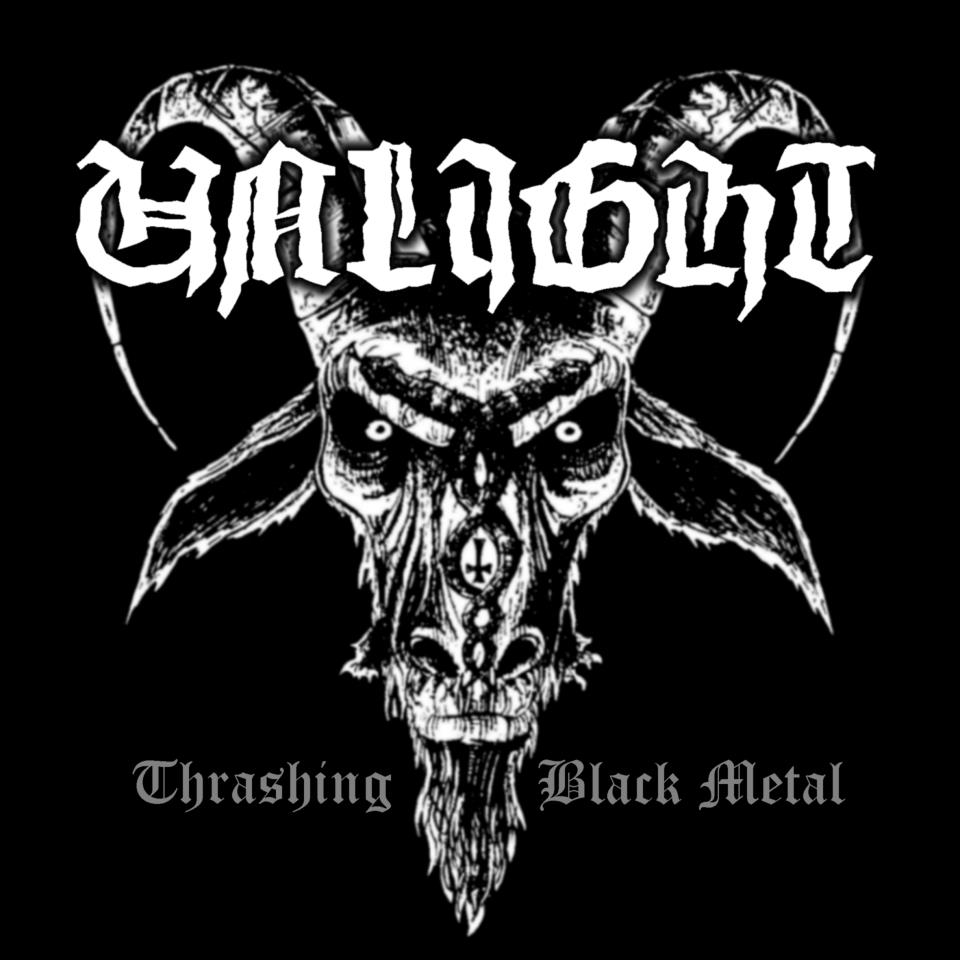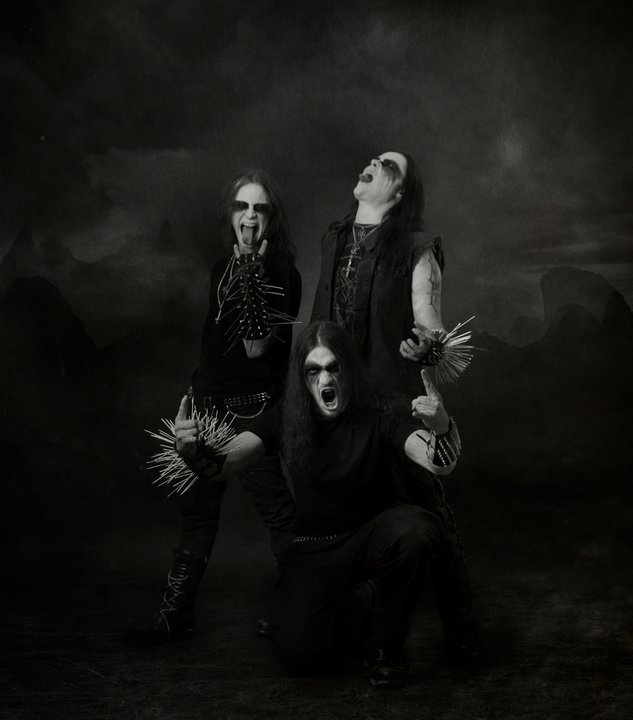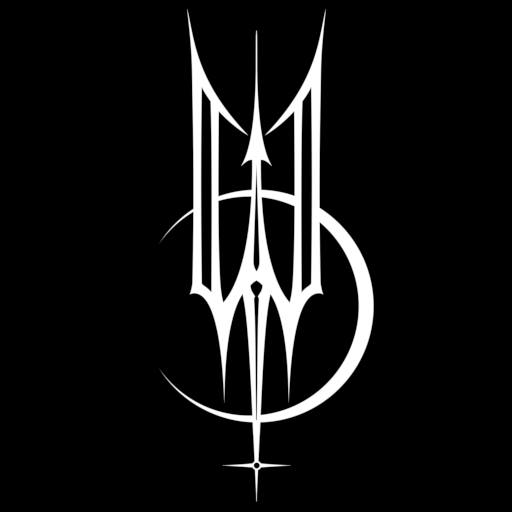 Die neue Band um Helge (Ex-Equilibrium, Arafel), Mexx (Festering Saliva) & Manuel Di Camillo (Ex-Equilibrium)!